You're Travelling In The Right Direction
If you're anything like me, you have tried it all to manage your goals. Covering your workstation in sticky notes, re-ordering them or planning your diary in detail only for life to scupper your day.
You're only doing all this crazy stuff already because you're working towards significant long-term change. 
The good news is you're taking action! Most people on the planet don't try to plan their day out in advance, and few try to measure their progress.
I'm in sticky note hell pic.twitter.com/7uhyOWKYF3

— sarah (@t0talsarahm0ve) February 5, 2014
At the start of this year, I decided my whole daily routine had to take a significant shift. I knew it wasn't going to happen overnight – but would be a series of small wins that snowball into giant change.
Step 1) The Internet Makes It Easy, Use A Framework
The first step in this process is making sure you've got all of your goals you want to achieve in the next year or five, written down.
Treat your goals like you would your husband/wife/girlfriend or boyfriend. Check in with them every day. Without Fail.
Recommended: Free Action Plan From The Team At Live Your Legend
I'd highly recommend taking a little bit of time from your day to either read through the live your legend site or give it a quick bookmark for later on!
Developed by Scott Dinsmore, a great character you can learn a little bit more about from the TEDx Talk he gave at the Golden Gate Park, San Francisco – I've linked below.
Aimed at getting people motivated to find their passion and essentially hustle their way to the success and become legends. The free toolkit that's on offer there is second-to-none. It does require you sign up with an email but the advice given is brilliant and I've loved using it, especially because it's free!
Note: Most saddening of all, Scott Dinsmore has since passed doing everything he loved doing.
I'd recommend completing all the free material that comes with LiveYourLegend
I completed mine as you can see below! It's a really inspiring set of workbooks and it guides you through setting up a really good set of goals.
Moving all my outcomes and goals from @_liveyourlegend into Trello to stick to my goals. Thank you guys! pic.twitter.com/G42eQvzrfo

— Caribou Digital (@AdamCaribou) August 21, 2016
Step 2) Go Forth And Implement…Daily
Smashing Up Your Year
Don't follow the New Year's resolution hype. Start now. Take your years worth of goals and start from today.
Break them down into an order, you know will need to be followed. Be sensible, don't try to bite off too much.
Once you've got your goals for the next 12 months split up as you need them. Now it's time to think about how you're going to break everything down into smaller – more manageable lists of things to achieve. 
Cloud it, it's everywhere.
My favourite tool for this sort of job has to be trello.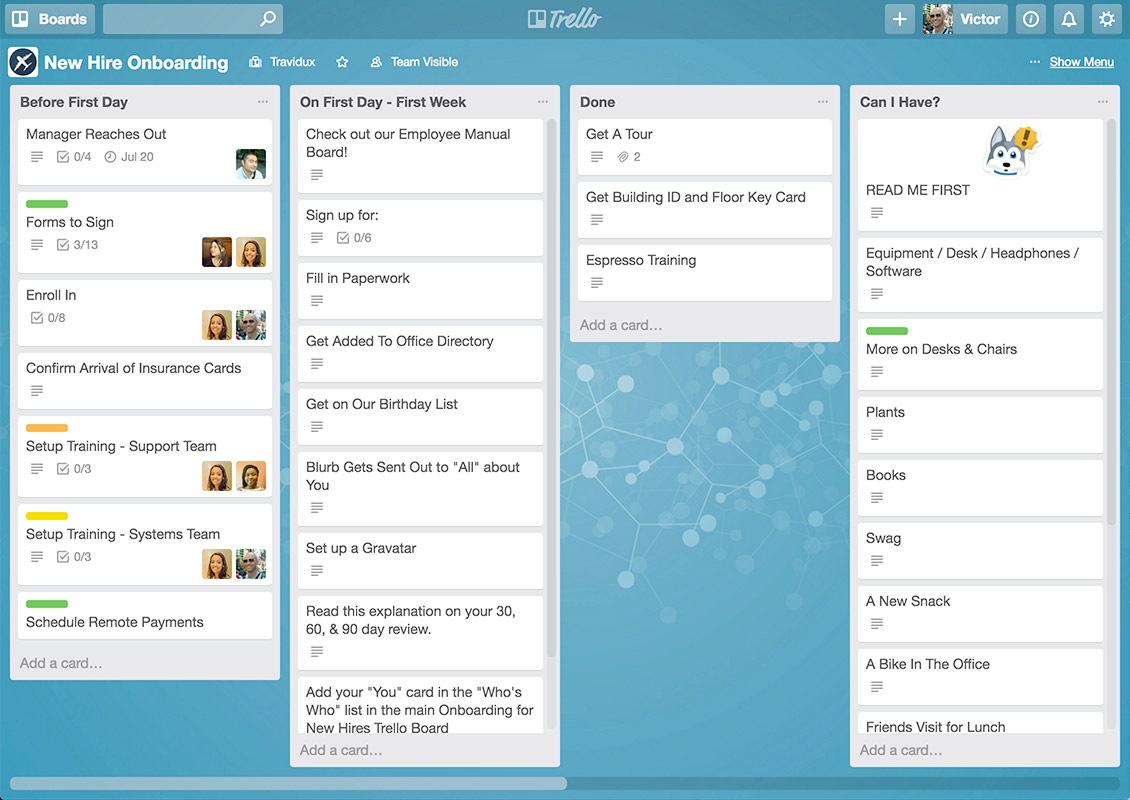 It's a real handy tool for making giant lists. Available everywhere as your lists are in the cloud and not cluttered around in sticky notes on in a diary.
Transfer your goals into Trello and break them down
With Trello you can create boards for different topics. For myself – I've created a board for my goals, then created a list for the months of the year.
With my lists for each month in place, I then transfer everything I've set myself to do into each corresponding month.
Take time here to elaborate further on key points. Break tasks down further if you feel you can.
You can download the app on your tablet or phone and spend 10 minutes in bed each night elaborating on your well-meaning plans.
Step 3) The Hard Part. Follow through
Without any doubt, this the one where we all fall down from time to time.
It's about building a routine, and the Trello app certainly helps. It doesn't guarantee you're going to check it every day.
However, there is one place I check every day and you will too.  Your emails. 
For myself, I use Microsoft Outlook, but you could use iCalendar or Google Calendar. In fact, I use Google Calendar on my Samsung, thus I use a nifty application called the GO Contact Sync Mod to sync the two calendars together, It's really worth getting.
Make a habit of planning your day in tandem with your Trello boards. There might be some great extensions you're willing to pay for to integrate Trello further into your day. Although don't go to elaborate lengths to get yourself a system in place if you struggle getting the ball rolling.
Not only that, it's your choice if you want to also write your goals out. There's a large school of thought that the action of writing them out physically further commits you to making said thing happen.
If you do use a diary – I'd recommend checking out the SELF Journal – it's kickass (It's like levelling up your average diary).
Which brings me neatly onto my final point.
The key to managing my goals has always been about the review. At the end of each day, I check back on my Trello and move what I haven't done either to the next day – but never the next month. Set yourself deadlines – It's the only way to really discipline yourself into getting things done.
It's far too easy to say tomorrow and avoid getting things done. This is why you're here in the first place.
Ultimately, I hope you find this little insight useful. Check out the resources on offer. They've assisted me in controlling my time and working toward my great lightbulb moments.
If you use anything in particular for getting those goals smashed. Share it in the comments below. I'll try it out myself!